What Happens on a Sedona Adventure?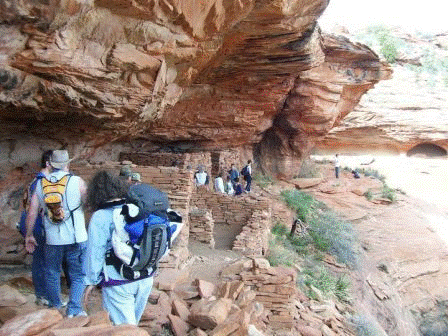 Each day of the adventure, you take an easy hike into a different canyon near Sedona with the intention of stalking natural power, infusing oneself with a renewed clarity and fresh purpose for living, opening to the magical, transformative forces of nature, touching the earth and sky playfully with body and soul… and having a good time!
People come from around the globe to immerse themselves in the magnificent beauty of the Red Rocks and to experience the famous energy vortexes of Sedona.
Sacred Connection and Renewal in Nature
As Nature speaks to us, time slows down and the stillness of the outdoors is very powerful. As your thoughts begin to empty out, you can look into the pool of your own being, noticing how you are, what your dreams are made of, what you need to let go of and need to let in.
You feel connected to everything, the hovering dragonfly, the stalwart pine in its rocky home, the hawk soaring over its domain piercing our veil of separation with every cry.
With Nature as a mirror, Your Story is returned to you with clarity and wisdom, empowering you to go forward on your life's path with more success and joy.
True vitality erupts when we're fully present to our world and our unique contribution to its healing.
A Taste of the Desert
Delight your senses sampling cactus honey, prickly pear jam, sweet mesquite pod cookies and natural veggie bites made from native desert plants. You'll discover which plants can be used for medicine, clothing and tools—as well as meals. You won't believe how many ways you can use one plant!
While in Sedona, you can enjoy many other adventures:
Indian ruins and rock art

Sacred sweat lodge ceremony

Medicine wheel magic

Native American crafts

Hopi village tours

Psychic readings

 

Hot air ballooning

Horseback riding

Hiking and camping

Massage & spa

Grand Canyon tours

Jeep, helicopter & train scenic tours

 
Benefits of a Sedona Adventure
What People Say about the Adventures