Ancient & Magical Sedona
A Soul Vacation with Heart & Purpose
The adventure that will change your life!
Personalized Mystical Explorations
Create your own dates to fit your visit
Tailor ceremonies to suit your interests
Individual, group, corporate and children outings
Explore Sacred Sites
People come from all over the world to Sedona to experience these profound Power Spots of earth's magnetic magic. Learn about the living spiritual forces of Sacred Spaces. These forces are about who you are and could be. It's the only destination that matters—the healthiest, happiest you!
Embrace the Mystery
Vortexes
Labyrinths
Indian ruins
Cliff dwellings
Rock Art Petroglyphs
Native American Ceremonies Celebrate You!
Native peoples use powerful traditions to stay happy and healthy—and flow easily through life transitions. Everything you need to enhance your life is right here, right now. Tap into eternal earth energies for profound transformation, inner peace and healing. Play. Spark creativity. Awaken intuition. Recharge your spirit. It's your perfect vacation. A retreat for your soul.
Meet your Spirit Animals
Go on a Shamanic Soul Retrieval
Create your personal Medicine Pouch
Activate life force energy in sacred pools
Make music with natural rattles and drums
Get guidance from The 4 Directions of the Medicine Wheel
Relax with sacred sounds of Native American flutes, chants and songs
You Receive:
Personal Sound Healing to activate chakras & attract health & abundance Personal Power Animal Message for guidance & support for your next step
This Adventure Is for Everyone:
Short easy walks along tree-shaded trails
Gentle approach for people of all ages
Not physically strenuous
A Taste of the Desert
Delight your senses sampling cactus honey, prickly pear jam, sweet mesquite pod cookies and natural veggie bites made from native desert plants. You'll discover which plants can be used for medicine, clothing and tools—as well as meals. You won't believe how many ways you can use one plant!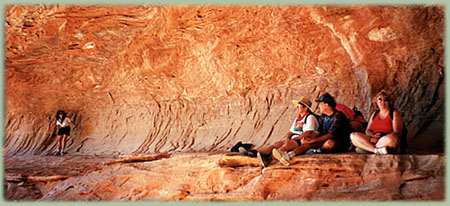 Who Benefits:
Anyone wanting an exotic, extraordinary one-of-a-kind vacation
Anyone wanting more fun, love and meaning in their life
Anyone facing change looking for tools & skills to help others & themselves
Anyone wanting to gain insight, access deeper levels of awareness, or move forward on their spiritual path
Refreshing waterfalls and swimming holes
Rejuvenating sacred spring-fed pools
No outdoor experience necessary
Free time to enjoy all that Sedona offers
Results You Take Home:
Greater abundance
Openness to new options
Exhilarating vitality and health
The courage to find life purpose
The clarity to make wise choices
Solve the challenges in your life
Practical solutions for career, money and relationships
How We're Different!
We take you to off-the-beaten-track sites—where you have more privacy & fun. Where magic happens!
We've personally experienced the magic and mystery, the power and profound transformation of the sites and ceremonies we offer.
We customize each adventure for the people who come.
We listen and respond to your requests on the spot.
Optional
Sweat lodge
Reiki treatment
Learn to play a drum
Learn to play a Native American flute
Features
No need to rent a car
If schedules match, we can provide free rides to/from Sedona & Phoenix
Low cost lodging or free camping available
Fee:
Group Size: 1-50 people
Season: All year
Tour Customizable: Yes
Multi-day backpack camping trips are also available. Please inquire.
***
Your Guide
Keith has spent 30 years opening people professionally and privately to the transformative power of Nature. His first-hand experience and authentic, supportive space acts as a bridge for others to enter these realms more easily and confidently.
Keith has dedicated his life to helping people grow, heal, play, succeed and embrace life. He's applied his approach to personal dynamics as a life strategy coach, international seminar leader, therapist, acupuncturist, gardener, author, filmmaker, radio talk show host, owner-chef of two gourmet restaurants and vice president of the country's largest natural food company.
When not exploring consciousness in the canyons of Arizona, he travels around the world assisting people to open to life's wonders and surprises in his Sedona Nature Adventures and Dream Workshops.
Benefits of a Sedona Adventure
What Happens on a Sedona Adventure?
What People Say about the Adventures
You might also be interested in:
An ancient way for happiness today! Time-proven tools to attract love, health and wealth. Native Traditions applies traditional spiritual teaching to everyday modern challenges—inspiring you to live in harmony and cooperation with natural and celestial forces. Native peoples used simple, powerful traditions to stay happy and healthy—and flow easily through life transitions and challenges. Native Traditions teaches you how to get full benefit from Sacred Sites—and how to activate these vital energies back home.
Embark on a rewarding adventure that merges myth, mirth, meditation, native medicine, and Mother Earth. Connect to the Great Spirit. Use the earth energies for personal transformation. Gain clarity of purpose, power and passion. See your life clearly, face fears, let go of the past, and find a guiding vision for your future. Release outmoded ways of being and open to new beginnings. Allow the land to gift you with peace, empowerment, emotional release and joy! Get answers through Native American Ceremonies: Do Medicine Wheel. Build Ancestral Altar. Make your personal Medicine Pouch. Meet your Spirit Animals. Become a Sacred Earth Walker. Explore Sacred Sites: vortexes, labyrinths, Indian ruins, cliff dwellings, rock art. Short, easy walks. Attend as 1, 2 or 3 day event.
A spectacular outdoor vision quest where you employ the physical universe as an accurate, liberating reflection of your own consciousness. Double your chances of getting the message from Spirit by reading the outer signs from your inner guidance. Transform lessons absorbed in wild spaces into concrete results in the urban canyons back home in order to enrich your work, relationships, health and finances. Learn to use Nature to create the love your heart longs for, a job with soul and passion, recharged vitality and health, the courage to find life purpose, renewed personal creativity, and the clarity to make wise life choices. Easy walking along tree-shaded streams in 3 magical canyons, motel or camping at night.
CLICK HERE  to sign up for free monthly PROSPERITY EZINE